Sanderling Information
Length: 7 - 8"
Habitat:
Breeding habitat: Rocky arctic tundra.
During migration and in winter: Sandy ocean beaches, mudflats, sandy edges of inland lakes and rivers.
Diet: Small crustaceans (especially, sand crabs), small mollusks, marine worms. On breeding grounds, insects and their larvae.



Calls of the Sanderling, including flock calls

Additional Information
Sanderling
Habitat, diet, feeding behavior, nesting, migration, and conservation status of this bird. Includes range map, photos, and songs and calls. (From Audubon Field Guide)
Sanderlings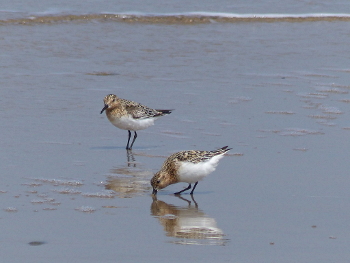 By Ian Preston [CC 2.0]
Sanderling
Identification Tips
Small shorebird
Medium-length, thin, dark bill
Dark legs
Wide, white wing stripe
Black line on rump extends onto tail
Sexes similar
Adult alternate
Reddish head, back and breast with black spots
Gray wings
White belly
Adult basic
Pale gray head and upperparts
Faint, partial gray breast band
White underparts
Indistinct white supercilium and dark eyeline
(Credit: U. S. Geological Survey)

Range in New England

The Sanderling is locally common along the New England coast during fall migration.
This bird is also found during the winter along the coast of New England as far north as southern Maine.


Map from eBird

Sightings of the Sanderling throughout the year over past 10 years (2009-2019)




Christmas Bird Count Map
Historical CBC Map from USGS