Rough-legged Hawk Information
Length: 19 - 23"
Habitat:
Breeding: Open tundra and open mountainous areas. Prefers habitat with cliffs or rocky areas for nesting.
Winter: Farmland, marshes, dunes, and other open country. Can sometimes be found roosting in open coniferous woodlands.
Diet: Mostly small mammals such as mice, voles, and lemmings; sometimes, small rabbits; birds, some carrion, and occasionally insects.



Calls of the Rough-legged Hawk

Additional Photos and Information


Rough-legged Hawk
Information on habitat, diet, feeding behavior, nesting and migration. Includes range maps and the calls of this bird. (From Audubon Field Guide)
Photos of Rough-legged Hawk
From Peter LaTourrette's Bird Photo Gallery
Rough-legged Hawk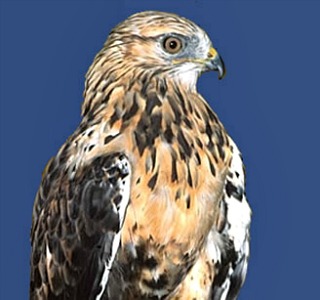 © arttoday.com
Rough-legged Hawk
Identification Tips
Large buteo
Long, broad, rounded wings
Hooked beak
Broad tail
Yellow legs and cere
Sometimes hovers in flight
Wings held in slight dihedral

Light morph adult
Wide, dark, subterminal tail band
Upperparts dark brown with some mottling
Dark wrist contrasting with mottled wing linings and paler flight feathers
Females have darker bellies than males; males have darker breasts
Dark morph adult
Very dark plumage
Flight feathers barred and paler than wing linings
Dark trailing edge to flight feathers
Dark wrist
Broad, dark, subterminal band on tail
Female has white base to tail; male has dark tail

(Credit: U. S. Geological Survey)

Rough-legged Hawk
Breeding Range
The rough-legged hawks that we see in New England breed in the arctic tundra of North America and migrate southward after breeding season.

Rough-legged Hawk
Range Maps from Cornell

Rough-legged Hawk breeding, migration, and nonbreeding range



Includes separate map of sightings.


Rough-legged Hawk
Christmas Bird Count Map

Historical CBC Map from USGS