Eastern Screech-Owl Information
Length: 8 - 10"
Habitat: Open deciduous or mixed woodlands, orchards, residential areas, parks. Prefers habitat near open areas and requires trees with existing cavities for nesting.
Diet: Insects, including moths, katydids, beetles, and crickets; rodents such as mice and voles; amphibians, reptiles, crayfish; some small birds and fish.

Songs and calls of the Eastern Screech-Owl

Interesting Facts about Eastern Screech-Owl
Being only 8 to 10 inches in length, the Eastern Screech-Owl is close to the size of a robin, but a different shape.
This owl normally uses natural tree cavities or old woodpecker holes for nesting, but will also use man-made nest boxes. It will eat in the nesting cavity and caches extra food there.
The Eastern Screech-Owl is nocturnal and roosts during the daytime hours. In the winter, it uses tree cavities for roosting - for protection from predators and from the cold. In the summer, it can roost on tree branches where it is hidden by the leaf cover.
Additional Information
Eastern Screech-Owl
Habitat, diet, feeding behavior, nesting, migration, and conservation status of this owl. Includes range map, photos, and songs and calls. (From Audubon Field Guide)
Photo of Eastern Screech-Owl (Gray Phase)
By Mike Danzenbaker
Eastern Screech-Owl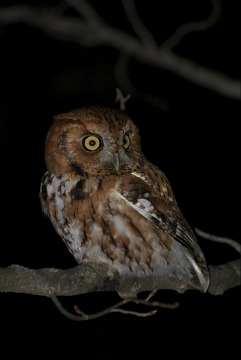 Eastern Screech-Owl
Identification Tips
Wingspan: 22 inches
Small, nocturnal, predatory bird
Large, rounded head with ear tufts
Yellow eyes
Dense streaking on underparts with finer barring
Some birds have rusty plumage, others dark gray
Sexes similar
(Credit: U. S. Geological Survey)

Year-round Range Map
from eBird

Sightings of the Eastern Screech-Owl year-round over last 10 years